PEARL
PEARL is an exhibition of work by Caroline Broadhead, Lin Cheung, Melanie Georgacopoulos, Maria Militsi and Frances Wadsworth Jones. Initially brought together through their teaching at the Central Saint Martins BA Jewellery Design course, the work of these five jewellers spans across different fields and tackles different subject matters, yet they all share a mutual fascination with the pearl.
They are not alone, the pearl has been a significant index of value throughout time in many cultures. Loaded with symbolism and preconceptions, the pearl is at once a natural material, a status symbol, a fashion statement, a holder of sentiment, memory and much more. Cultivated rather than mined, pearls have the rare distinction of being among the few sustainable gem varieties in existence.
The pearl necklace, in particular, is perhaps one of the most widely recognised forms of jewellery, an item that Lin Cheung is particularly drawn to. The suggestion that a pearl necklace's universal appeal is due to the fact it is considered inoffensive, feminine and proper is both attractive and conflicting to Cheung; prompting her to explore the material and language of pearls in ways that offer a freer sense of adornment. Underpinned by a detailed knowledge of materials and processes, Cheung's distinctive approach to making offers a witty and poignant response to the human condition, present in her flawlessly crafted chain, Pearl Necklace, Graduated.
Humour is also present in Frances Wadsworth Jones' work which takes tradition and uses it to play with expectations. Her pierced pearls and reframing of pearls as contemporary portraits completely flip the pearls conservative reputation on its head. She finds herself continually coming back to them, partly drawn to their beauty but also to the way in which their beauty is so loaded. Frances describes pearls as coming with such a strong and implicit set of associations that she finds impossible not to engage with, if not to completely disrupt.
The idea of disruption is also present in the work of Melanie Georgacopoulos whose entire practice has been dedicated to modernising pearl and more recently mother of pearl jewellery. Though geometric in form, her pieces often allude to the pearl's natural origin, the oyster, her Nacre Necklace, for example, sees pearls gradually sinking into water-like segments of mother of pearl, the fluidity of which are mirrored in the movement of the necklace. She views pearls as she would any other material and her fearless approach often yields surprising results, that are often as much miniature sculptures as they are wearable items of jewellery.
Similarly Caroline Broadhead is not confined by the physical scale or wearability of jewellery, although the concept of jewellery has been a consistent element spanning her more than fifty year career. Her recent works have confronted the image of a pearl, created by a meticulous configuration of tiny glass beads where small individual units are brought together to make a larger whole representing a sort of unity and teamwork. Broadhead is attracted to the idea of how one thing or material can closely reference another. In Frilly Pearl Necklace glass beads serve to portray another sort of bead with a different sense of value and tradition.
In a very different way Maria Militsi also brings different objects, materials and ideas into close relationships to form new meanings. Her work employs the potential of objects as echoes of experience, as fragments of memory and as markers of loss. By using found items, it is the objects themselves that determine Militsi's choice of inspiration. Be this found images of unknown sitters wearing pearl necklaces, mundane and/or damaged jewellery recovered from the streets of London, used empty pearl cases sourced from online auctions, leftovers from house clearances, defunct toys, etc; it is these chance encounters that Militsi uses as a point of departure to embellish, tease and evoke curiosity with the addition of pearls as a universal symbol of value and collective memory.
The strength in this group is the diversity of each individuals' ideas and approaches to a single subject matter. Their work explores new and innovative ways of working with the pearl, how it can be re-presented, whether that is through the manipulation of the material itself, the form it might take, through referencing its place in cultural history, or, finding imaginative ways in which to reassess its position at the heart of jewellery's system of values. Their investigations interrogate traditional uses of pearls and position them in a contemporary, surprising, humorous or ironic context.
Even through the PEARL exhibition started off as an exhibition on its own in 2022, the 5 female British artists have since taken the PEARL exhibition on a world tour which has opened up opportunities for them to exhibit alongside international artists who share their fascination with the pearl. The exhibition at ATTA Gallery in Bangkok is the 3rd stop on the tour and will include unique, innovative and traditional jewellery and non-jewellery works made with pearl and mother of pearl by 5 male Asian artists: Sam Tho Doung, Kimiaki Kageyama, Takashi Kojima, Tamiya Raden by Kyoji Tamiya and Jukkit Suksawat.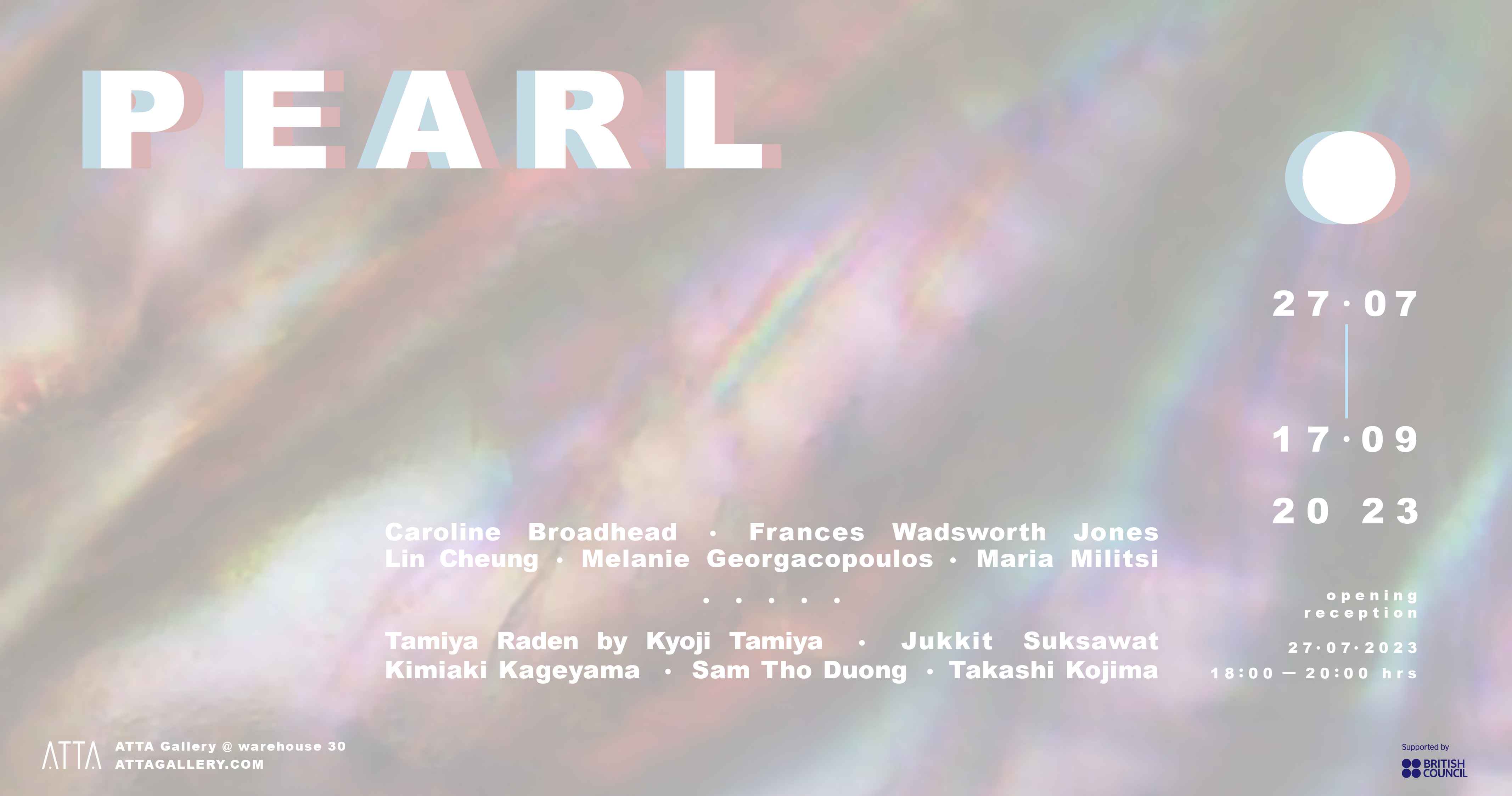 ---