Tropical Hallucinations is a two-part exhibition presented in two different locations, much like two islands in an archipelago – the main geo-culture of South-East Asia – geographically separate but still closely related. Part I will take place over four weeks; Part II will be shown over four short days.
Bringing together expertise from Vietnam, Thailand and Indonesia, Galerie BAQ, ATTA Gallery and RUBANAH-Underground Hub present 12 works in a variety of media, from painting, sculpture and video to installation and photography, exploring the diverse religious and belief landscapes of Southeast Asia.
Paul Kadarisman's humorous still-life arrangements leave viewers wondering whether he is trying to de-sacralise, as in the West, or celebrate animism, as in the local tradition. Kamin Lertchaiprasert has been quietly following his Buddhist path for more than 30 years, distilling the emptiness of more than 1,000 days of meditation into his writing and on paper. Imhathai Suwatthanasilp looks through human hair (literally!) to observe the reactions of those involved and public opinion surrounding the Southern Thai Insurgency from 2004 to the present. Meanwhile, M. Irfan, in praise of nature, has found a concrete (the artist's word) way to reconnect with it after a long journey into the deep forest. Phan Thảo Nguyên uses a series of moving images in a fictional narrative to allegorise the breakdown of the relationship between humans and their environment. Drawing on his experience of growing up in a multi-religious family, Tôn Thất Minh Nhật cleverly uses the nature of traditional sơn ta (traditional Vietnamese lacquer) to express his reflections on the boundary between the sacred and the ordinary.
Using the cliché of tropical climates, often misused in many texts about the East from the perspective of Western travelers, the exhibition lifts the veil of exoticism to allow viewers to perceive the ongoing reality from the perspective of artists living and working there.
Part I of the Tropical Hallucinations exhibition will take place at Galerie BAQ, 15 rue Beautreillis, 75004 Paris; Public hours: 11-19h, Tuesday - Saturday; Free admission, no reservations required. Vernissage 18h, 20 September.
Part II of the Tropical Hallucinations exhibition will take place at the Asia Now Art Fair 2023 from 19-22 October at the NOW ON Pavilion, Galerie BAQ, featuring artists Nguyễn Thị Châu Giang (Vietnam), Imhathai Suwatthanasilp (Thailand) and Richie Nath (Myanmar).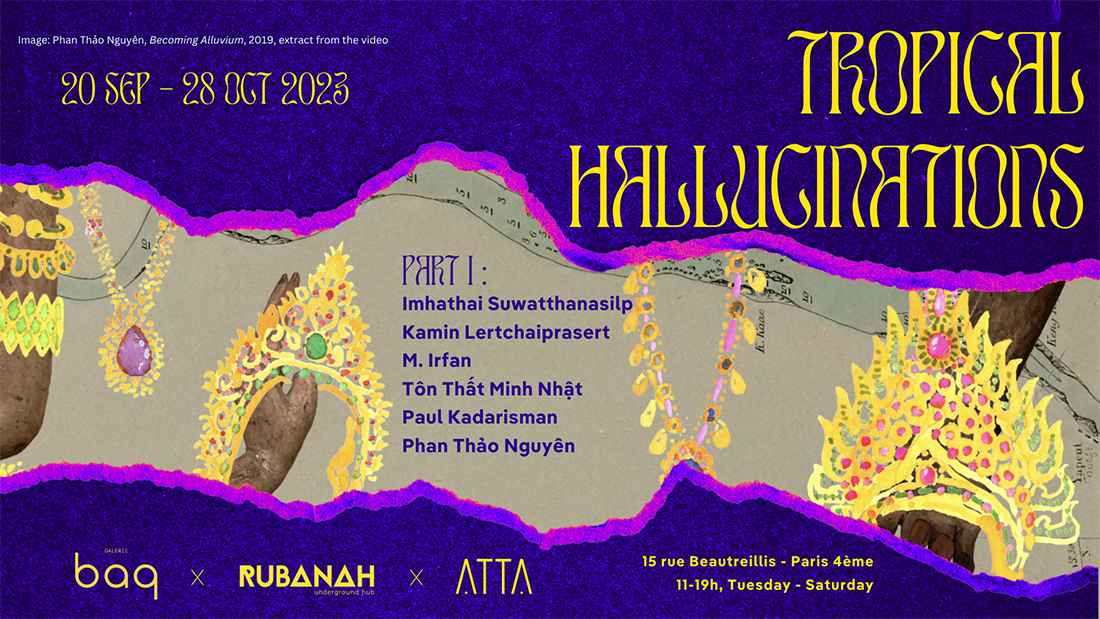 ---